Wow Lighting and Controls Announce Four New Line Acquisitions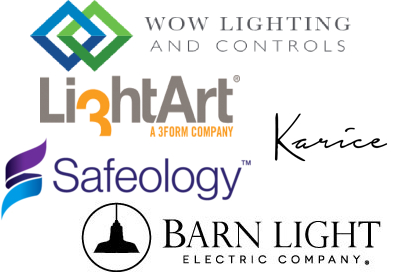 July 17, 2020
Wow Lighting and Controls have added Safeology, LightArt, Karice Lighting, and Barn Light Electric Co to their linecard.
Safeology, a UVC disinfection expert, brings research, technology and manufacturing together to create clean spaces free of pathogens like viruses and bacteria. Located in Everett, Washington, their 125,000 square foot manufacturing facility is home to hundreds of employees who come to work every day united around a single mission: creating a cleaner, safer world.
LightArt, a 3form company, is a custom lighting fabrication and design studio in Seattle's Georgetown neighborhood. The work of the Seattle studio is an ever-evolving tale of innovation, creative exploration, and endlessly variable custom lighting creations. Rooted in handmade design, the LightArt studio creates one-of-a-kind chandeliers, sculptural installations of all shapes and sizes, and standardized pendants, drums, sconces, and linear fixtures.
Karice Lighting is a custom lighting and metalwork manufacturer based in Surrey, BC, specializing in Waterjet Cutting, CNC Machining, Architectural Metal and Metal Fabrication. They are designers and makers of custom lighting fixtures, pushing creative boundaries & crafting the unimaginable. Karice can bring your ideas to LIGHT, they have been designing and creating custom lighting and metalwork installations across North America since 1993.
With a commitment to craftsmanship and an eye towards timeless styles and modern technology, Barn Light Electric is the manufacturer behind your new favorite lighting fixtures. Celebrated for reviving time-honored, hands-on craftsmanship and traditional porcelain enamel lighting, Barn Light Electric produces lighting designs that are durable, fully customizable, and truly one-of-a-kind.