Magic Lite New CCT adjustable T-LED Fixtures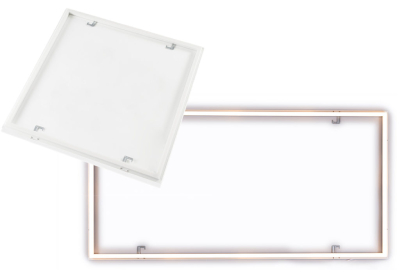 Sept 14, 2020
Magic Lite's new CCT adjustable T-LED Fixtures. T-LED Edge Light CCT is a modern, cost-effective solution for general and accent lighting in offices, hallways and commercial applications.
Easy to install with zero disruption to the ceiling system, the T-LED Edge is attractive and versatile. It integrates seamlessly into any T-Bar ceiling and can be used in a variety of ways to create interesting designs, making it a perfect solution for retrofits and new spaces, especially those where obstructions are a challenge and/or 'builder's basic' panels simply won't cut it.
The CCT and wattage adjust features make T-LED all the more versatile. Simple slide switches on the driver allow you to adjust the colour temperature of each fixture to 3000k, 4000K and 5000K. There is also a wattage adjust switch allowing you to adjust wattage / light output.
T-LED comes in either 2' X 2' or 2' X 4' sizes and is 0-10 volt dimmable.