Experiments Demonstrate Seoul Semiconductor SunLike Series Natural Spectrum LEDs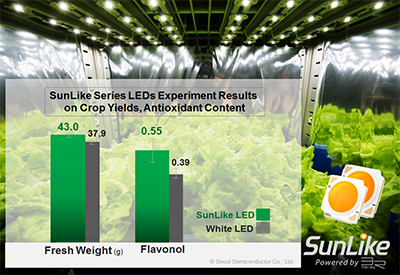 Aug 6, 2019
Seoul Semiconductor released the results of a series of experiments that demonstrated a higher growth rate and higher flavonol (antioxidant) content in crops grown under SunLike Series natural spectrum LEDs than those grown under standard white LEDs.
The experiments were conducted on lettuce using SunLike Series LED lighting and standard white LED lighting of the same color temperature and light intensity. After two weeks of crop growth, the fresh weight and flavonol content of the lettuce were measured and compared. The fresh weight of lettuce grown under SunLike Series LEDs came in at 43.0g,13.5% higher than the yield produced by standard white LEDs. In addition, the flavonol content had a measured antioxidant effect of 0.55, 41% higher in comparison to lettuce grown under the standard LEDs.
This significant difference in growth and flavonol content is directly related to light spectrum output, defined as the combined wavelengths of energy produced by a light source. SunLike Series LEDs were able to promote more growth due to having a spectral output that more closely matches the spectrum of natural sunlight. Thus, the experiment concluded that SunLike Series natural spectrum LEDs may shorten the growth period of crops, while enhancing yield, quality, and marketability.
"According to the results of this experiment, LED light sources with the same measured correlated color temperature and intensity, but different spectral output, may produce different effects on the growth rate and nutritional content of crops. Therefore, growers using greenhouses and indoor farms will benefit by selecting horticulture LED lighting sources that offer a natural spectrum close to sunlight – one of the key factors in the growth cycle of plants," said Nam Ki-bum, sales executive vice-president of Seoul Semiconductor. "As an optimized horticulture LED solution, Seoul Semiconductor's SunLike Series natural spectrum LEDs will deliver significant benefits to enhance growth cycles and the year-round development of crops, as well as improve the overall growth environment."
Go HERE for more information