Eaton Define LED Linear Recessed Luminaire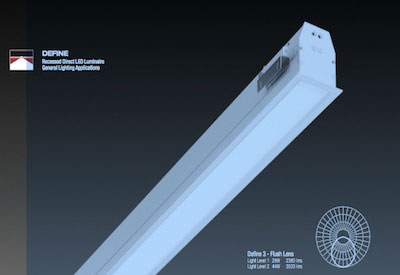 September 19 2016
Eaton's Define series by Neo-Ray characterizes the ultimate in minimalist simplicity by providing clean, uniform lines of illumination in virtually any architectural environment. Powered by Eaton's most advanced linear LED technology, the Define series delivers outstanding efficacy in a variety of profile widths that empower designers, engineers and architects to design the space with lines of light.
Luminaire widths of 1", 2", 3", 4", and 5" are all specifiable to the nearest inch in length and can be fitted with standard flush, regress and drop lensing. In-wall corners or wall to ceiling transitions can all be ordered as standard components and blend seamlessly into the most complex architectural spaces. Robust construction and adaptable, modular components make installation simple and ensure laser straight runs. 
The Define series provides the ultimate synthesis of minimalistic style and Eaton's most advanced LED technology. As building codes and standards continue to become more stringent, standard slot luminaires will struggle to meet the efficacy and dimming criteria necessary for the modern office environment. The Define's high efficacy LED engine and standard 0-10V continuous dimmer driver allow easy and flexible integration with lighting control panels, occupancy sensors, daylighting controls and room controllers. The Define series provides numerous profiles and shielding options that not only conform, but shine through today's and tomorrow's strictest building codes and standards.
The Neo-Ray Define Series features optional corner transitions in all housing widths. Whether spanning corridors, wrapping staircases or highlighting architectural features, the Define has standard corner transitions for all applications. Standard crosses, Ts, wall to ceiling and in-wall transitions are available.
Without the restrictions of bulky fluorescent lamps, the Define 1 has a remarkably slender 1" aperture. The micro slot beautifully defines architectural features and shapes and blends harmoniously in the most modern and technological environments. The Define 1 is available with all the options of the larger aperture profiles making it not only a beautiful aesthetic option, but a true micro powerhouse.
Uniform ribbons of light do not need to come standard with light leaks at the ends of fixture runs. Neo-Ray's patent pending lens clip easily snaps into place at the ends of runs and seals off the end of the luminaire to prevent light leaks and bug and dust protection. The lens clip and standard snap in lens are suitable for damp locations, and allow the Neo-Ray Define series to be installed under canopies or in restrooms with ease.
Find out more: contact Susan Duross, Kerrwil Integrated Inc., 705-549-6635, susanduross@kerrwil.com.