Cree Lighting Canada Welcomes Lande Associates as Agent Representative in Southwestern Ontario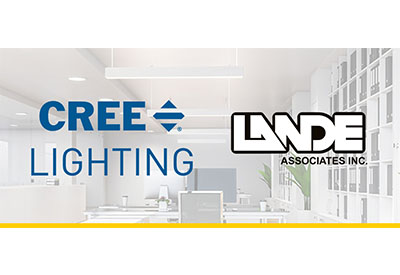 July 13, 2020
Cree Lighting Canada welcomes Lande Associates Inc. as our agent representative in the following Southwestern Ontario territories: Southwestern Ontario, including Guelph North to Bruce County, West to Windsor, and Burlington through to Niagara Falls.
About Lande Associates
Lande Associates Inc. is a manufacturers' representative agency for lighting, lighting controls, roller shades and more. Manufacturers they represent produce high quality products from North America and around the world. The Lande Associates team works with a wide variety of clients to deliver designs, consultation, project management, services and application knowledge. As a company who has been in the lighting business for over 30 years, Lande Associates is known as a go-to agency in Greater Southwestern Ontario for architects, interior designers, electrical engineers, electrical distributors, electrical contractors and end users. Whether the project is small or large in scale, Lande Associates has the expertise, experience and products to handle your needs from design through to installation and beyond.