Bringing a Taste of Tokyo to a Russian Mall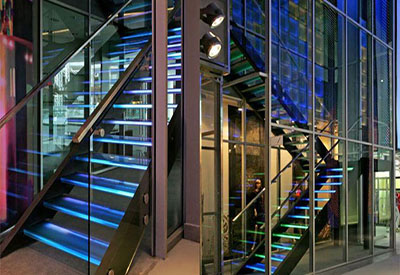 December 6, 2016
Retail lighting is transforming the shopping experience at the Vegas super mall in Moscow. It's one of the largest retail sites in the world, spanning 386,000 m2. Russia's only themed mall, it contains an amusement park, ice rink, and more. Could Philips help to create a vibrant atmosphere in the mall's new Ginza shopping area?
The idea was to recreate Tokyo's famous Ginza shopping street within the mall. As one of the busiest districts in Tokyo, Ginza has a pulsating, vibrant atmosphere. Managers wanted to recreate this atmosphere in the new area and embed it harmoniously into the rest of the mall. To achieve this vision, a lighting solution would have to highlight the distinctive features and materials in each of the 32 separate facades along the 130-metre street.
LED bought the street to life. iColor Cove and iColor Accent Retail lighting fixtures were installed into a variety of surfaces, from acrylic beams and glass shutters to wood and metal panels. Dynamic lighting patterns and colour grazing effects enhance the shopping experience, continuously changing to create different moods as shoppers move along the street.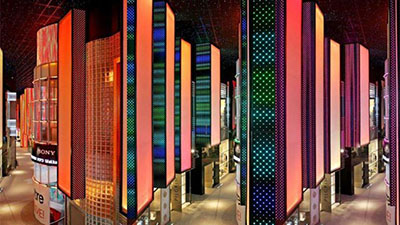 The iColor Cove MX Powercore high-intensity LED lighting fixtures afford virtually limitless options for filling indoor alcoves and accent spaces with vibrant light. The iColor Accent MX Powercore is a direct view linear LED fixture ideally suited for creating long ribbons of colour and colour-changing effects.
To complete the illusion, sparkling iColor Flex lights twinkle like stars in the night sky, recreating Tokyo's outdoor shopping experience. The new lighting scheme is strikingly beautiful. And thanks to the energy efficient performance of LED, it is also economical.
The new retail lighting gives a dazzling performance that entertains and amazes shoppers. It brings a taste of Tokyo to one of the most significant retail developments in Russia.