April 6-9: Hong Kong International Lighting Fair (Spring Edition)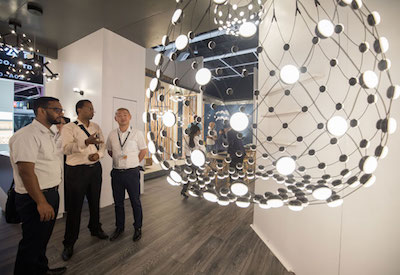 March 22, 2019
Organized by the Hong Kong Trade Development Council (HKTDC), the Hong Kong International Lighting Fair (Spring Edition) will take place April 6-9 at the Hong Kong Convention and Exhibition Centre, with more than 1,350 exhibitors from 13 countries and 20,000 buyers from 114 countries and regions expected to take part.
The spring lighting fair is a strong trading platform with a global reputation. Shine a light on opportunity: check out these major exhibit categories:
advertising display lighting
avenue of chandeliers
business of IP zone
commercial lighting
decorative lighting
horticultural lighting
Innobuild (NEW!)
lighting accessories
residential lighting
smart lighting and solutions
technical lighting
trade services & publications
urban & architectural lighting
Building the future with environmental and smart lighting
The lighting DIY market is booming than ever, particularly in North America and Western Europe. Decorative items are no longer limited to Christmas lighting but a variety of domestic lighting products, such as track lights, linear lights, spotlights of novelty designs are included.
Another trend for the industry is highly linked with environmental concerns. Lighting products of higher energy efficiency and longer lifetime are preferable. On one hand, many countries, including Canada, Australia, the EU, the US, and the Chinese mainland have already phased out imports and sale of most incandescent light bulbs. On the other hand, energy-efficient items such as integrated electronic compact fluorescent lamps and LED lamps and lighting apparatus are in demand.
As for future developments, smart lighting systems, the technology to connect different devices and appliances at home, lighting apparatus as well as mobile devices by a smart platform, are shaping the trend of smart living style.
Distinctive thematic zones for easy sourcing
Responding to the development trend of smart living, a brand-new thematic zone, Innobuild, will be presented in the fair. It will introduce ground-breaking initiatives for building technology and showcase practical construction tools, as well as smart and green building materials and hardware.
The Hall of Aurora will continue to be the spotlight of the fair, showcasing eye-catching and forward-looking quality lighting products and technology from some 200 top-notch brands around the world. Interior designers, lighting architects and retailers who look for high quality and trendy lighting products will revel in its ample offerings.
Another highlight of the fair is the Smart Lighting & Solutions Zone, which will return to showcase advanced lighting systems, remote control and smart lighting solutions, with a special focus on IoT lighting supply chain, organized by the Shanghai Pudong Intelligent Lighting Association. The zone will showcase innovative elements such as IoT platforms, artificial intelligence and smart lighting systems from renowned industry leaders such as Tuya and Broadlink. The Horticultural Lighting Zone launched last year will also return to showcase a wide range of grow lights and garden lights.
The upcoming Spring Lighting Fair will continue to present a wide assortment of smart, energy-saving lighting products, systems and accessories in different specialty zones by their applications, namely residential lighting, technical lighting and urbanand& architectural lighting, together with advertising display lighting, avenue of chandeliers, commercial lighting, decorative lighting, and lighting accessories. These thematic zones provide buyers with convenience in sourcing their targeted lighting products and meet their potential suppliers.
Find out more: event.hktdc.com/fair/hklightingfairse-en/s/741-General_Information/HKTDC-Hong-Kong-International-Lighting-Fair-Spring-Edition/Fair-at-a-Glance.html